The .222 Remington
Ruger M77 Hawkeye Stainless Synthetic
---
12/20/2011
This puppy arrived on the 19th of December. I had spotted one on Gun Broker but it was too steep for my blood. Stumbled across this one at one of my distributors. When it arrived, I checked serial number history on Ruger's web site and discovered that it was in fact a 2010 model. I called Ruger to see if they would tell me how many of them were produced but they declined.
I followed the usual polishing procedure and can't wait to get out and shoot it.
Back in 2005 or 2006 I found a Ruger Zytel "skeleton" stock for a short action on ebay, bought it and put it up for safe keeping. I don't know why but I think these stocks are cool. I figured that someday I would want it for something. So the new Hawkeye is now wearing the Zytel. This puts me at 3 of the Zytel's in service.
I mounted a Browning labeled version of the Bushnell Elite 3200 in 5-15x40 AO, matte blue, on the new stainless Hawkeye and it looks great.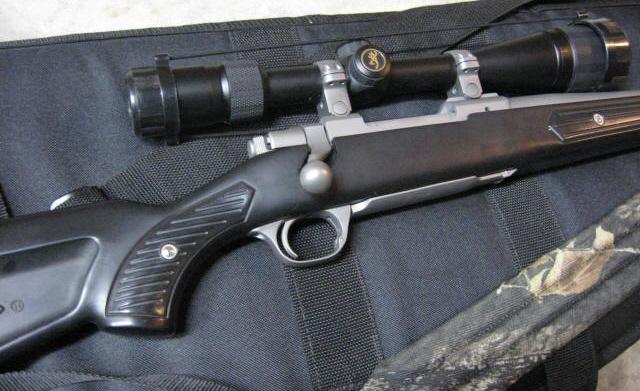 On 12/22/2011 I went through the break-in procedure of firing 3 shots then cleaning for a total of 21 shots. I went ahead and zeroed the scope in the process in an attempt to save time. After the 21 shots, I fired 3 more rounds that had been loaded for my old Savage 340C. The bullet was against the lands but I saw no indications of a pressure spike and shot a nice little group. Back at the house I cleaned the bore thoroughly.
Saturday the 24th I tested a new batch of ammo that I had loaded specifically for this rifle. The following target is the first 5 shots starting with a cold clean barrel.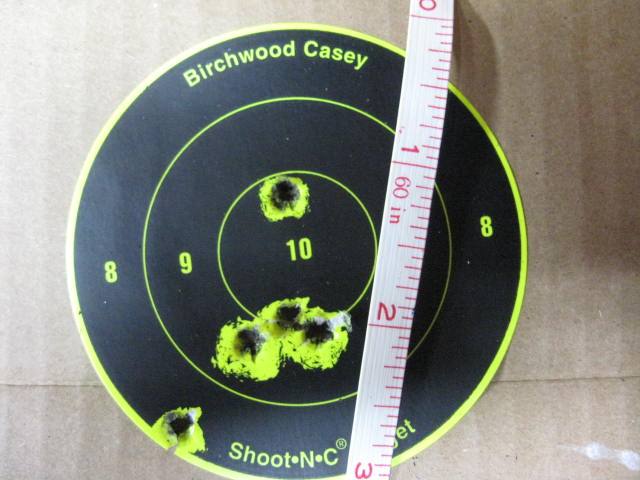 Shots 3,4&5 in the cluster.
UPDATE 8/16/2018:
Can't believe how fast times goes by. Long story short this rifle quickly became one of my favorites. It has killed dozens of Prairie Dogs in Montana and several coyotes in Missouri. I carried it almost exclusively for coyote hunting for the 2017/18 season. Killed 7 and knocked down 2 that I couldn't find. Consequently, I switched to a Barnes 45g TSX bullet late in the season because of the 2 yotes that I lost. Having used the TSX bullets in deer caliber cartridges with great results I thought I would try them in the 222. The accuracy is top notch but I did not get another shot in the 17/18 season. 2 weeks ago knocked a yote flat at 125 yards with the TSX. Planning to use it again this season.
Since this has become my coyote gun, I did not take it to Montana this summer. I have bench guns for that but I missed having it with me. It's a pleasure to shoot and incredibly accurate.
---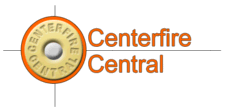 Last Modified: Thursday, August 16, 2018 11:13 AM