%@LANGUAGE="VBSCRIPT" CODEPAGE="1252"%>
Ruger M77 Compact
243 Winchester
---
January 2008
My first "Compact" Ruger was a 308 and as it turns out, I enjoy carrying that gun more than any other gun I have. It is incredibly accurate and a blast to shoot. I have killed several deer with it including a 200 yard neck shot. I doubled with it one frosty morning a few years back, that was fun. Almost made it a triple and chickened out. Figured I was pushing my luck. Watched the 1st 2 fall and had a 3rd in my scope.
243 still being my favorite caliber I decided that I had to have a Ruger Compact in 243. I had been ok with waiting until whenever to get one as long as it happened.
In December of 2007 I started getting paranoid. Only a couple of my distributors had any of them available and so I started checking the availability of other calibers thinking that Ruger might be on the verge of discontinuing them. The other calibers were just as scarce. I jumped in and ordered one of them in 243 about 2 weeks before Christmas for the shop.
I told my wife that "if after the 1st of the year they were still as scarce, I would keep it for myself". She informed me that she was tired of Christmas shopping and that I should just keep it and she could be finished shopping. It did not take much persuasion on her part at all. I mean really, if she is tired of shopping why would I put her through the misery of more shopping? The least I could do he let her be finished with the hustle and bustle
Feeling a little guilty for doing her shopping for her, I called Ruger and asked what the deal was. They assured me that they are not being discontinued and in fact they had just shipped out a large quantity of them. I told my wife what Ruger had to say and she still didn't want to go shopping so under the tree it went. Sure enough, they started showing up at my distributors a couple of days before Christmas.
Well, I don't have to worry about getting one bought at some point down the road now.
The wood on the new 243 is lighter than my 308 and just as pretty. I had debated buying the laminated version but I've been packing my walnut 308 for a few years now and it still looks like new. I think the walnut is prettier than the gray laminated but if they offered it in a brown laminated I probably would have gone that route.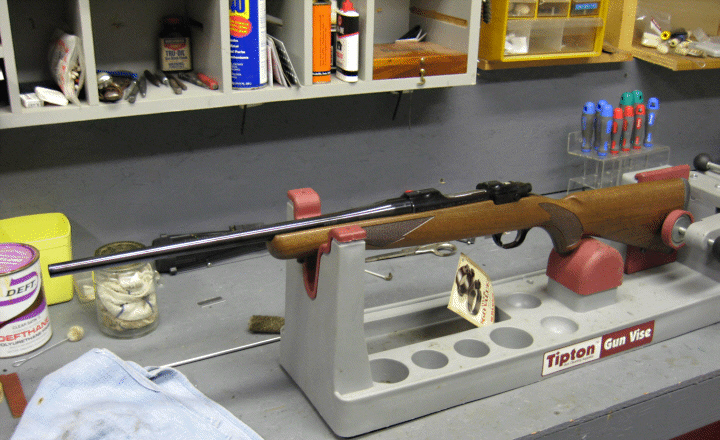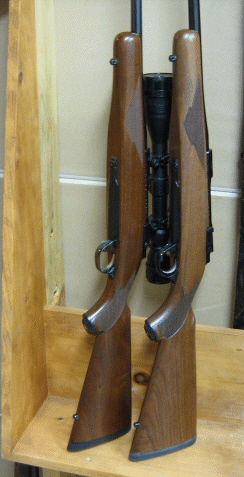 Like every new gun I buy, I will follow this break-in procedure. I will attempt to publish updates on this project as steps are completed.
I checked the trigger pull on the 243 as "stock" and found it to be about 4-3/4's pounds IF you close the bolt firmly and turn the handle down hard. If you just close the bolt gently and then turn the handle down to the stop gently, the pull is just under 4 pounds. The difference in pull weight alone is enough to warrant the 77 trigger job and then I like my hunting rifle triggers 3-1/2 pounds or less.
Took a few pictures of the cleaning procedure. I use JB Bore Paste and it seems to work great. I did not get all the patches numbered but you get the idea.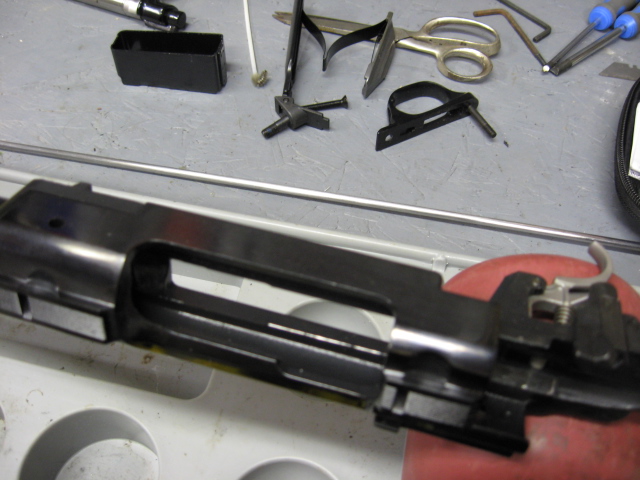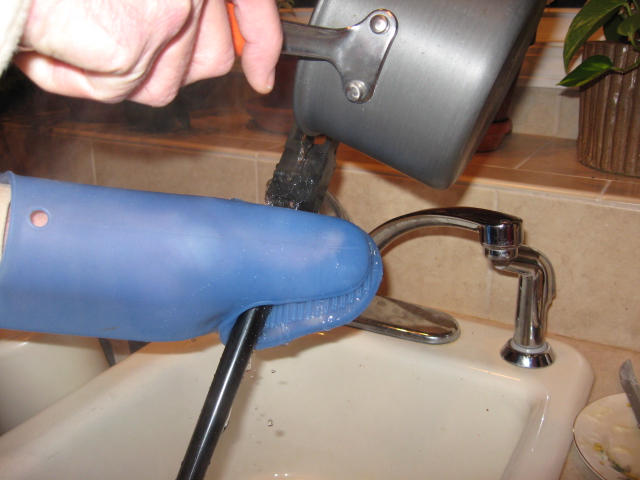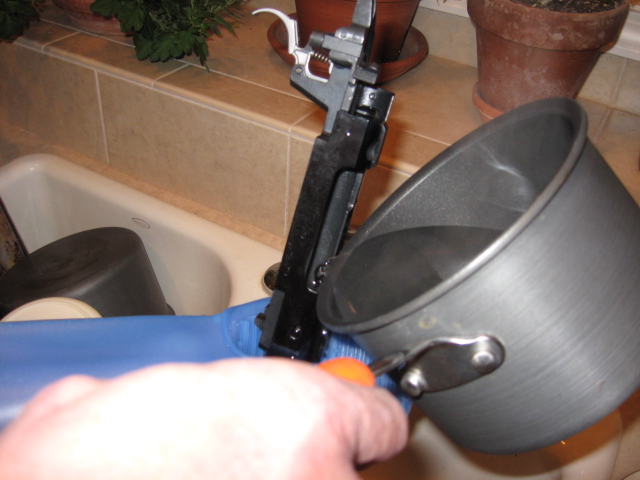 I used a big "hot pad" glove I found in the kitchen drawer. It works well. With the muzzle standing on a sponge I let this block the water from exiting and just let the water stand in the bore a second. This gets the barrel extremely hot. Then I let it drain, squirt in some soap and rinse it well with more water.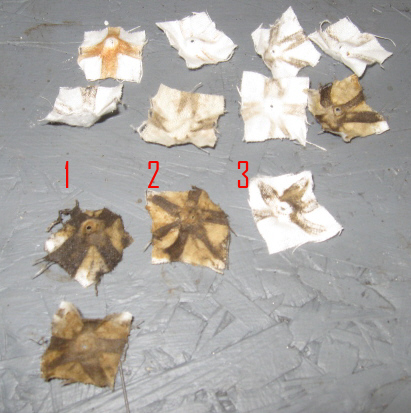 I made 4 passes with Iosso bore polish because it really seems to cut crud as well but I can't say that I would recommend using it exclusively or excessively. A little un-nerving.

After that I ran an oily patch through followed by 1 dry patch.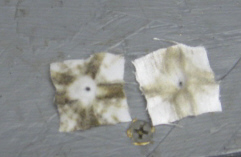 Then I turned my attention to the bolt. Using a Q-tip I wiped off the lugs and got them clean. Inspecting the Q-tip with a 10X jewelers loupe if found a few sparkles. Metal shavings ! Not surprising but indicative that more could have easily existed in the bore prior to polishing.
I used a dark color Sharpie marker and colored the back side of the lugs. Placing the bolt back in the gun and operating the bolt a few times quickly removed the marker from the high spots on the lugs. In this case, the marker indicated that only one lug was actually making much contact. I cleaned off the rest of the marker from the 1 lug that was making contact and put a very small amount of scope lapping compound on the back side of the it.
Again placing the bolt back in the gun and closing the bolt. Now I only lift the handle to near the top but not far enough to release the lugs then back down again. Repeating this just a few times and then repeating the marking process. Soon some of the marker was removed from both lugs amounting to about 50% contact with the locking lugs. I quit there.
One note if you try this. You must remove the compound from the backside of the locking lugs (a Q-tip works great for this) in the receiver between "marking" steps and certainly make sure all compound it completely gone from the receiver and bolt before quitting.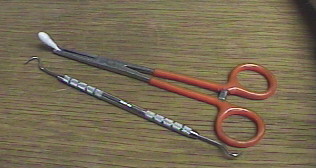 While I had the gun all apart, I also polished the magazine follower with the lapping compound applied to a small rag. Sure made it a lot slicker feeling and it can't help but improve feeding even if it is not a huge improvement.
Since I have the tool, I will probably go ahead and remove the firing pin from the bolt and clean it as well. Just in case there is any stray metal shavings hiding in the spring or inside the bolt.
I put the action back in the wood and installed the 3 bolts. The old dollar bill trick under the barrel did not work. The barrel is touching at least at the tip of the forearm so I did not get any further. I will go ahead with the firing and cleaning process of the break-in before I start worrying about accuracy too much.
Got to get a scope ordered. Because the length of pull is short on this gun I have been looking closely at "eye relief". The Simmons Aetec series seems to have the shortest eye piece allowing the scope to be mounted farthest from your face. I already have one of these scopes on my stainless 77 and love it so I certainly would not mind having another. They make it in a 4x12x44 so that is the direction I am leaning right now.
Update 1/13/2008
I settled on a new Simmon's Aetec and was anxious for it's arrival.
Well, life is full of disappointments and my new scope may well be one of those. My first Aetec was made in the Philippines and my new one is made in China.
I called Simmon's in frustration and asked a simple question and got a simple answer.
Q. Which series of Simmon's scopes are still made in the Philippines?
A. None of them, all Simmon's scopes are now made in China.
Still frustrated with my selection, I went ahead and mounted the Aetec on my new Ruger. I am willing to give it a chance but I don't hold out much hope for it. I've never met a Chinese scope yet that I liked.
This scope does have a quick focus eyepiece and a side parallax adjustment. Both should be handy features.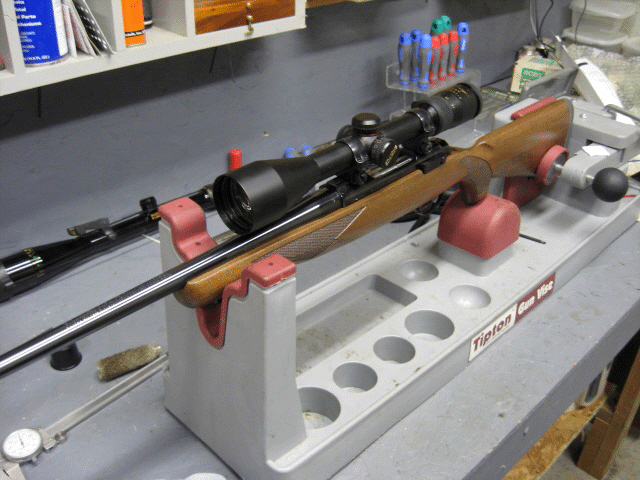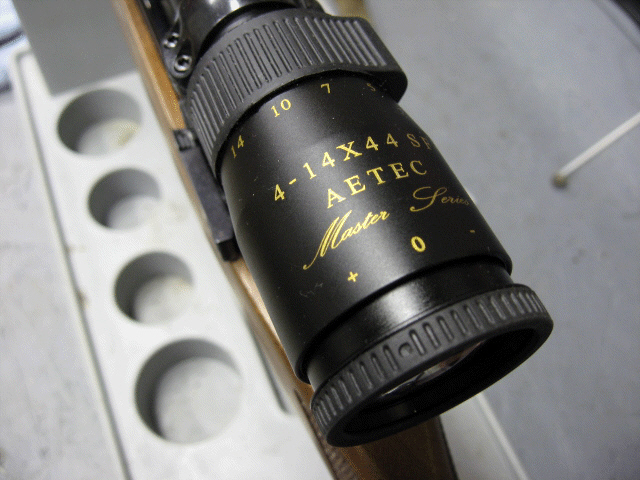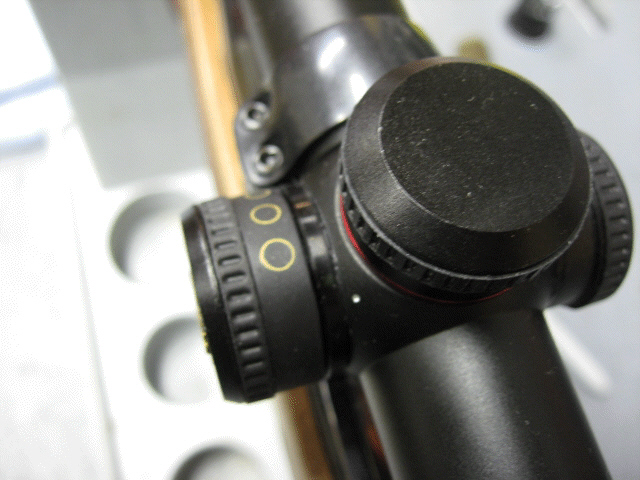 Update 8/18/2008
Finally got out to shoot this "Christmas Present".
I followed the break-in procedure that called for firing 3 shots and then cleaning for a total of 21 shots. I burned up some older 60 grain HP reloads that I had and then started into a fresh batch of reloaded 70 grain Hp's.
I was hitting paper so tinkering with the scope adjustment only allowed the barrel to cool a bit which is never a bad thing.
By the time I had finished the 21 shots I pretty much had the scope dialed in. I went ahead and burned up the rest of the fresh box or 70's.
4 shots (something like number 26 through 29) created 1 hole about the size of dime in the target. This was shooting from a sandbag on a toolbox on my tailgate. No elbow rest just the bag for a front rest. Granted it was only 50 yards but if I were a betting man, I don't think 100 yards would have presented a problem.
Still uncertain about my scope selection, I was pleased with it's performance today. Clarity was very good, adjustments worked, parallax adjustment worked. Though the overall appearance of the scope looks "cheap", it did perform.
Last year I used Nosler Partition bullets in 95 grain in my Ruger All Weather 243 for deer hunting. Dropped 2 deer in their tracks, 1 at 50 yards, 1 at 160 yards.
This year I am planning to use Nosler Ballistic Tip "Hunting" 90 grain bullets. I have them ordered so will start working with them in the next week or so. Nosler data shows that I can push them to over 3200 fps and I'm sure that's based on a 24 or 26" test barrel. When I settle on a charge, I will run them across the chronograph to see what the little Compact rifle with it's 16.5 barrel does.
---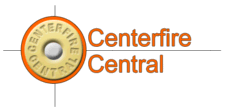 Last Modified: Thursday, November 27, 2008 9:49 PM