Misc
---
Each reloading bench will contain the individuals own gamete of tools and devices for cleaning.

My very favorite item for cleaning is the simple Q-Tip. Thousands of uses and cheap. Take a pair of surgical clamps and snap off a Q-Tip and presto, you have a tool with the exact angle for the job at hand. For instance, the angle set in the right picture will do a good job of reaching into the lug recesses on a bolt action. Apply a little solvent or oil and you'll be surprised at the crud you dig out.

I also like to have a couple of dental scrapers around. They are great for reaching into those tiny grooves and recesses on firearms that tend to attract crud.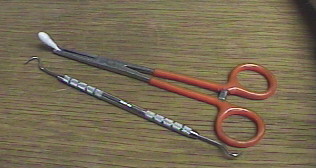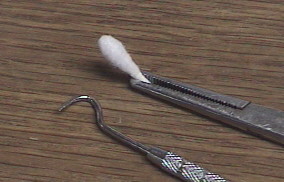 A variety of brushes can be used and a simple toothbrush can prove quite helpful.
---
A recent edition to the "tools I would not be without" is this nifty Jewelers Loupe from Widget Supply.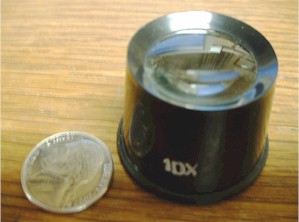 It has 10 power magnification, is all plastic and very inexpensive. At the time of this writing, they were $1.99 each or 3 for $4.99, plus shipping. I bought 3 and put one away for safe keeping. The other 2 ended up on the desk and loading bench. Hold it in place with your eye muscles and keep your hands free. The focus area is about 1.5 inches in front of the lens making them great for close up inspection work.


Return to Equipment and Accessories Index