CZ 40P Review
---
June 9th, 2006
Back in the spring of 2006, a customer ordered a CZ P-01 9mm from me. When it arrived, of course I had to look at it and wipe off some of the oil. I hate handing a customer their new gun covered in oil so I usually wipe off enough of it that they don't get it all over them.
I will say this though, CZ's do come in a plastic bag and they are oily but that suits me fine. I've had new guns come into the shop with rust. I'll take oil any day !
On to the pistol.
In a word "WOW"
Very nice feel to the gun. Thick rubber type grip panels and a slight curve in the grip near the bottom. The P-01 has a rail and this one came with night sights. All I could do was look at it, couldn't go shoot it or tear it down for inspection so I quit there. But I found myself opening it every couple of days to show it to a customer and handle it again myself.
I've said it elsewhere but when a gun feels right it just feels right. I don't think that it is any one feature that causes this phenomenon.
Well, I got to doing a little research into pricing and availability on similar CZ's. The P-01 went out the door around $500. Looking through one of my vendor sights I sorted the CZ pistols by price and one pops up that I could sell around $375. The description showed it to be a 40P "Limited Edition". (only 1500 units)
It is in fact the 40 S&W P-01 frame with a slightly longer slide/barrel and a finger extension on the magazine. The de-cocker Model 75 looks very similar in the pictures on the CZ web site.
I jumped on the phone and called my salesperson. She informed me that they did still have a few of them and that even though the description did not say it, the guns came with night sights.
OK, that's like putting a plate of cinnamon rolls in front of someone with diabetes.
When the gun arrived, I all but ripped the box open.
I wiped the gun down and looked it all over. Very Cool ! About 3/4" longer than the P-01 and about 1/4" taller. Otherwise, they look like twins. I put a price tag on the gun and put it in the display case. Already, I was tempted to show it "out to owners collection" in my log book but I restrained myself.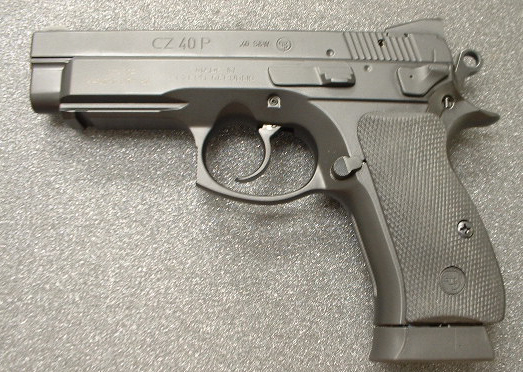 It did not take long for the gun to sell and I started missing it. A couple of weeks later, tooling around the vendor sight I discovered that they might actually still have a few of them left. One phone call later and I had 2 of them headed for me in the mail.
It took me a couple of weeks to actually get out and shoot one of them but when I did, it was everything I had anticipated. Smooth action, accurate and comfortable to shoot. I burned up a box of shells and headed for the house. I cleaned the gun all up and put it back in the display case with a slightly reduced price for having been "fired".

I really don't need another 40 S&W but I think this one will end up in my collection.

The specs:
SA/DA
De-cocker/Firing Pin Safety
Fixed Night Sights
Accessory Rail
Barrel 4 inches
Overall Length 7.75 inches
Height 5.5 inches
Weight Empty 32 ounces
Capacity 10+1
Loaded Chamber Indicator

Accessories Included:
Plastic Storage Case (lockable)
2 Magazines
Loader
Cable Lock
Cleaning Rod
Cleaning Brush
Snap Cap (with replacement cushion "primer")
The trigger pull in double action checks in at 11 pounds and single action checks in a just over 5 pounds. In single action, the trigger has a boat load of creep.

Naturally, I compared it to my Beretta 9000S in 40 S&W.

The Beretta double action is just over 9 pounds and single action closer to 5 pounds. The Beretta also has plenty of creep but it is a smoother more solid feel if that makes sense.
Neither gun showed much over travel.
The slide release, magazine release and de-cock are all comfortable to reach on the left hand side of the gun. The de-cock pulls down to drop the hammer, where my Beretta pushes up to drop. Neither the de-cock or the mag release are ambidextrous.
There is no safety on the 40P in spite of what the owners manual pictures/states except that the de-cock has a built in firing pin safety.

Now having written this review, it is not likely that you will find a 40P at your local shop since it was a "Limited Edition". However, I do believe the design, quality and functionality of this gun to be representative of the CZ line. If you are into 9MM, you will find the P-01 available and basically the same as the gun I have reviewed here.
More Pictures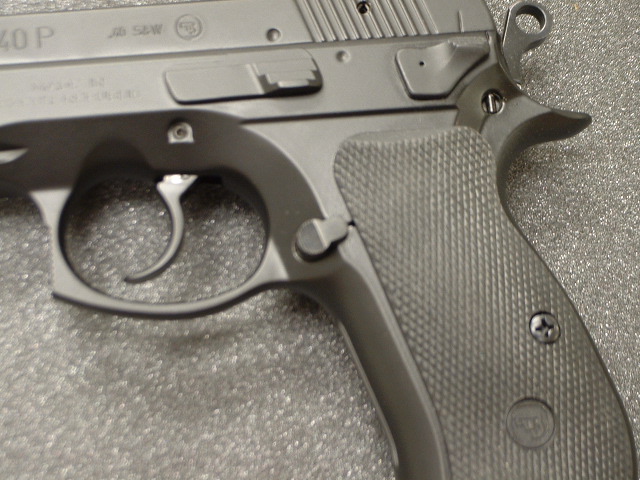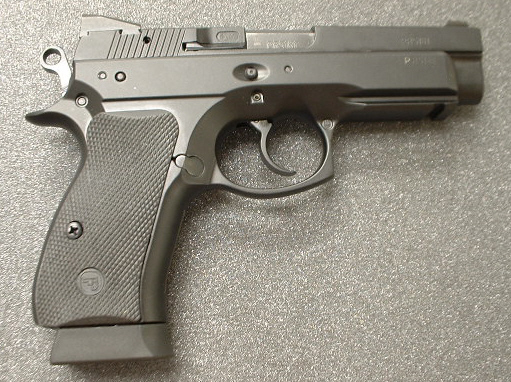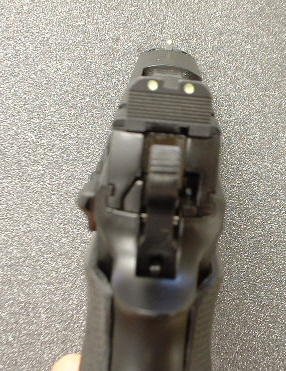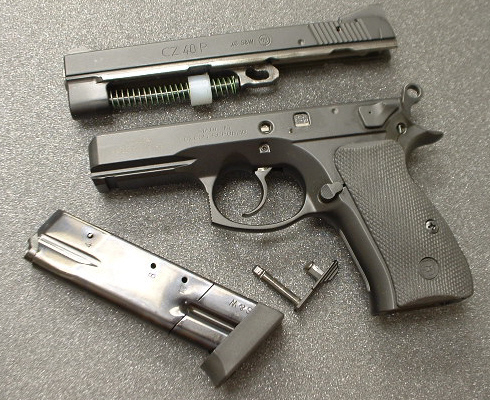 UPDATE: 1/30/2007
I have now sold 8 of these puppies including 1 to my brother. These guns continue to surface at various vendors. So what was the story behind it being a "Limited Edition".
I called CZ and was told it is not really a limited edition but they only make a certain number of guns in a run and this particular gun is only available through distributors. They said as far as they know, they will continue to be available through 2007 but were uncertain about down the road.
The wholesale price did jump about $100 but even at the new price I still think they are a super nice gun.
---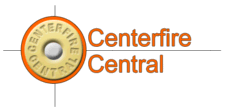 Last Modified: Saturday, July 14, 2012 9:12 AM
Copyright Centerfire Central, LLC 2005