%@LANGUAGE="VBSCRIPT" CODEPAGE="1252"%>
Charles Daly Field Grade Rifle
---
In March of 2005, my distributor ran a special on Charles Daly rifles in .308, a special run with a 24 inch barrel instead of the standard 22 inch. A price I could not pass up so I purchased 1 for the shop.
Anxious, I took it home to clean it up before heading to the shop with it. This is a Yugoslavian Mauser with a Butler Creek synthetic stock. With the Mauser extractor and bolt release, it felt a lot like a Ruger in my hands. Throw in the 24 inch barrel and I was just impressed all to hell with the potential.
I jumped in and cleaned it all up and could not resist polishing the bore with JB Compound. It slicked up perfectly and I was thrilled with my purchase.
Now I have to say this. The gun had a heavy coat of grease in the action and a lot cardboard dust type grime all over the metal, which on a new gun tends to be a little discouraging. Then wiping down the gun with a white rag makes you wince. However, the Remington 700 VS I sold in August was to say the least, worse and a bunch more $$. So I guess it goes with the territory to some degree.
With lots of room on pricing margin, I have moved the price around a couple of times and cannot move the gun out the door. Now granted, I still am not getting a huge amount of foot traffic at the shop but I am really surprised that it has not sold.
So now I have to handle this beauty everyday from the safe to the shelf and back and every time I pick it up, I get the urge to shoot it. August of 2005, I can't take it anymore. Maybe if it had a scope on it selling it might be easier. So I grab a Tasco World Class from the case, a set of rings and bases and went to work. The back of the receiver is thin so this meant shortening the base screws to clear the bolt. With a little filing, I was good to go. The bases installed and the lower half of the Weaver rings in place, I got to work with the lapping process.
I have yet to purchase a "boresighter" so I used the old spot on the wall program looking first through the bore then through the scope. Got it close and called it good. The next day I headed for the range. I put up 3 copy paper targets about an inch apart and prepared to shoot. Aiming at the far left target, the first shot was no where to be found. Knowing I left the scope a little high in the shop, I moved to the center target and aimed at the bottom of it. Bingo, 5 inches high, 5 inches left. A few clicks, another shot, a few more clicks another shot. In 4 shots, I walked it right in where I wanted it. About an inch high at 50 yards.
I played with a couple more guns at 50 yards and then moved over to the 100 yard bench with the Daly. Put up 2 fresh targets with Birchwood Casey "Shoot-N-See" spots on them.
Carefully, I squeezed off the first shot. It landed about 1.5 inches high but pretty well centered. I cycled the bolt and settled in for the second shot. I squeezed the trigger and got up to look through the spotting scope. Now, I know what I think I am seeing but since I live in the "Show-Me" state, I had to walk downrange for solid proof. Yep, tore another hole touching the first one.
Damn, I don't need another .308 but if this thing is going to shoot like this with left over rounds from my Ruger, I can only daydream of the nice little cloverleaf's it could cut with a little tweaking.
I fired 2 more shots with 1 of them touching the 1st 2 shots. I adjusted the scope down a little and moved to the second target. 2 more shots touching and a nice little group of 4 shots.
I was out of ammo and had a sore shoulder not to mention the concrete rash on my right elbow from the recoil. Now whether I keep this rifle or sell it, this is a product review, and I'm telling you for the price these guns can be bought at, this one's a sleeper.
Yes there are cons. The trigger seems heavy (scaled in at 5 pounds 5 ounces) and has some creep but then it is adjustable so that could probably be remedied. The stock is touching the barrel but with a thin shim under the recoil lug, that would be the end of that.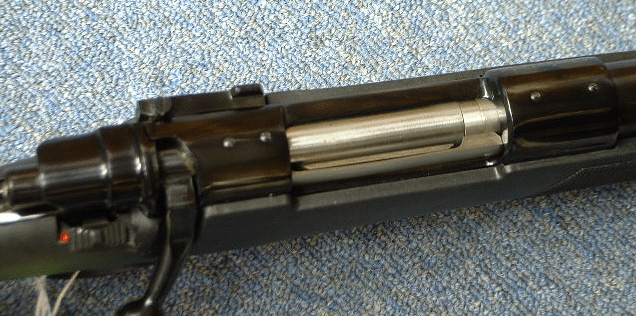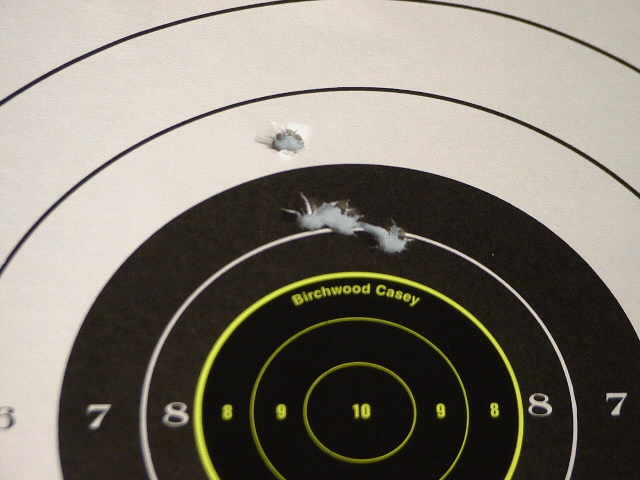 1st 100 Yard Target
In summary, and trying not to make this sound like a sales pitch, this is a no brainer. The pricing on these is very good and the quality really impresses me. I see no reason why this gun would not compete if not outsell the Savage package guns except for public awareness and distribution. Check with your local dealer, I'll bet they'd be more than happy to get you one in your favorite caliber.
The specs on the Charles Daly
Action : Mauser 98 Bolt
Calibers: 22-250, .243, 25-06, .270, 30-06, 7mm Rem Mag and 300 Win Mag
No Sights, drilled and tapped
Stock: Black Synthetic
Finish: Blued or Stainless
Capacity: 5+1
Weight: 7lbs 2.5 ounces
Length: 43 inches
Barrel: 22 inches (24 inches on 7mm and 300 Win Mag)
Safety: 2 position

Features:
Hinged floorplate
Fully Adjustable Trigger
Sling Swivel Studs
Black rubber recoil pad

MSRP $459

Charles Daly Web Site



Bill

---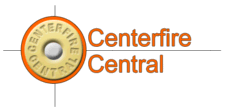 Last Modified: Thursday, May 7, 2009 11:27 PM
Copyright Centerfire Central, LLC 2005