Jaguar Scoped Bandoleer Holster
---
Needing a holster for my new Ruger Blackhawk, I decided to do a little scouting before jumping in and buying another Uncle Mike's holster. I like shoulder holsters because they protect my investments, both the gun and the holster. I always feel like my gun in a hip holster is just hanging there waiting for an old piece of barb-wire fence or something to grab on to the wood grips. Sure, a flap holster would solve that problem but does not address the issue of sticking the tip of the holster in the dirt when you sit down in a ground blind.
Having used an Uncle Mike's vertical shoulder holster with a scoped Contender, I was not prepared for the physical workout of using one with this Ruger.
I did some searching on the internet, found stuff in all kinds of price ranges and put off deciding until the next gun show was in town. At the gun show, I ran across a vendor that carried Mil-Tech holsters. Got to visiting with him and expressed my concerns.
I don't want to wrestle with it to get in on
I don't want to fight to get it adjusted
I may want to use a hip holster instead
Problem solved !
The "Jaguar Scoped Bandoleer Holster" Soft Armor by Mil-Tech - Vendor Site -
MFG Description "Ambidextrous bandoleer holster to fit left or right handed cross draw applications. The harness can be removed to quickly convert to a belt holster. Features Tricot lining inside of holster, built in magazine pouch or shell loops sewn directly to the holster. Extra speed loader pouches and magazine pouches can be attached directly to holster."
This holster still has to be adjusted when you add or subtract heavy outerwear but it is much easier to adjust. The shell loops are a nice idea but getting a shell in them the first time is a trick. They are just a little to snug.
As a shoulder holster, you can slide the gun around toward the front of your body for ease of access while sitting and then it just slides back when you stand up.
One thing that drove me nuts until I figured it out was the strap that holds the gun in. If you pull the strap down tight it pulls against the opposing side of the holster. Not a big problem until you try and snap the rig back to your belt at a later time. The strap just reaches anyway and the extra tension from the gun strap does not allow any movement making it a trick to re-snap. Solution, don't pull the gun strap so tight.
---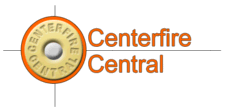 Copyright Centerfire Central, LLC 2004