Hornady Lock and Load Progressive
---

Product Review

By Ron Roberts



First,

let me give you a quick background of who I am. I've been in the reloading business for 30 years now. I have seven different presses set
up on my reloading bench to be used for different jobs. I shoot 3 times a week so I load a lot of ammo, mostly 45

acp

, but on weekends I
like to shoot my rifles. The reason I reload is apparent at $3.50 a box to reload as opposed to $10 or more for factory stuff, I can afford to
shoot about 3 times as much for the same money.

I have been using the

Hornaday

Lock and Load Progressive about 3 months now and have become used to it.

The press is well made and strong, the automatic powder measure is simple yet very accurate. The lock and load feature of the press makes
changing the dies to another caliber fast and easy. The Lock ring or collar is locked onto the die and extra collars need to be purchased to
enjoy the speed of changing dies.

I started loading some 38 sp. in it first and it functioned well once I got the adjustment screws for the case indexing set properly. This is
the only weak point on the press that I can find. Why

Hornaday

chose to use a nylon hex screw to adjust the indexing pin is beyond

me .

I had
problems keeping the index set until I put a drop of lock tight on the screws and have not had any more problems with the machine.

Next I changed dies to load some

223 .

The machine worked perfectly without any malfunctions. I went through about 400 rounds and made no
adjustment to anything other than resetting the powder measure.

Although I haven't had a Dillon to work with yet, this press is the best automatic I have had so far. It is far superior to the Lee 1000 in
the way it is built but then this is reflected in the price tag. On a scale of 1-10 scale with 10 being perfect, I would rate this press an
8.

---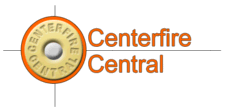 Last Modified: Thursday, May 7, 2009 11:30 PM
Copyright Centerfire Central, LLC 2004