%@LANGUAGE="VBSCRIPT" CODEPAGE="1252"%>
Product Review
Suzuki Ozark 250 Quadrunner
---
Purchased October 2003
Written October 2004
I knew very little about 4 wheelers when I purchased the Ozark. Naturally, I had researched it the best I could and it seemed the logical choice. My Ozark is a 2003, for the record.
It has a different front suspension than the competition and from everything I could read on it, folks liked the front suspension better. The 250 class rating came closer to matching the actual displacement on the Ozark. In other words, it has the biggest engine in it's class. Shifting into reverse is simpler on the Ozark than the Yamaha but I don't remember on the Kawasaki.
The Ozark doesn't look like a box with wheels. The fenders are flared higher and it has a tougher leaner look to it. The headlights are farther apart and more aerodynamic.
More Engine
Higher Compression (works on race cars, what do I know?)
Double A-arm on front and more travel front and rear
Front Disc Brakes, more brakes are always a good thing
Length, I thought it would fit better in my truck. It does, I can even turn it crossways in a standard bed
Ground Clearance, more is always better
Also really like the floorboard style integrated with the front mud flaps. Keeps your shoes a lot cleaner and makes getting onboard easier (bigger target for your foot).
The Ozark seems to hide a little better in the woods with more black on and around the engine. Wish the muffler was black too. I really liked the Yellow Ozark but it would be way to visible in the woods and too easy for people passing by to spot and steal. Course they do run the risk of being shot, coz I won't be wearing bright yellow, they might not see me till it's too late.
Note: It looks like they discontinued the Bear Tracker for the 2005 Line-up and now call it a Bruin.
These spec sheets are for comparison. The red dots indicate what I felt to be strong or better on the Ozark than the competition.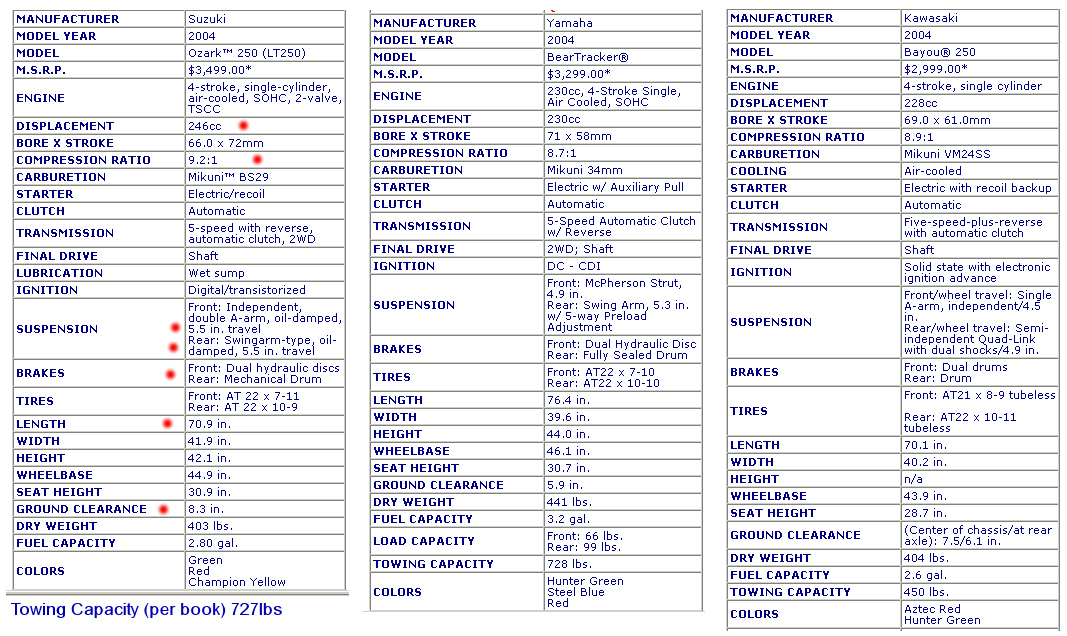 So, now that I have done my damndest to kill it, how's it holding up?
Well, I haven't broken anything yet. I keep the oil changed and ride it hard. I've hauled more weight on it than I should have, pulled more weight than I should have and reved it higher than I should have. It is still in one piece.
It handles great, it is incredibly responsive on the throttle. The brakes stop you, the suspension suspends.
What don't I like about it?
I really can't think of anything. The racks hold all my junk, it goes places I shouldn't take it and it is quick, very quick.
I have not rolled it but did flip it once. Started up a steep bank, my first attempt at such and I failed miserably. I had my helmet on thank God. My biggest fear was getting mashed by the Ozark as it came down. When it came over backwards, I landed on my back and was still basically in the riding position with this thing coming down on me. I pushed off the pegs with both feet and let go of the handlebars as it started to flip one more time and travel on down the bank backwards. It landed/stopped some 15 feet from me on all 4's and still running so my next reaction was to make sure it wasn't coming after me. The engine died and I laid there moaning. Every part of me hurt, but I kind of felt around for compound fractures and looked for blood. Not finding either, I just laid there for a couple of minutes trying to convince myself that I was still alive.
Some part of the handlebars hit me in the face on the way by and broke my sunglasses. The helmet probably stopped whatever it was from coming farther into the face area of the helmet. Don't need to do that again anytime soon or ever for that matter. I didn't brake any bones or even tear up the Ozark but it scared that crap out of me. It could have been much worse.
My Ozark ready to go play, I mean check the fence, yea that's it, check the fence.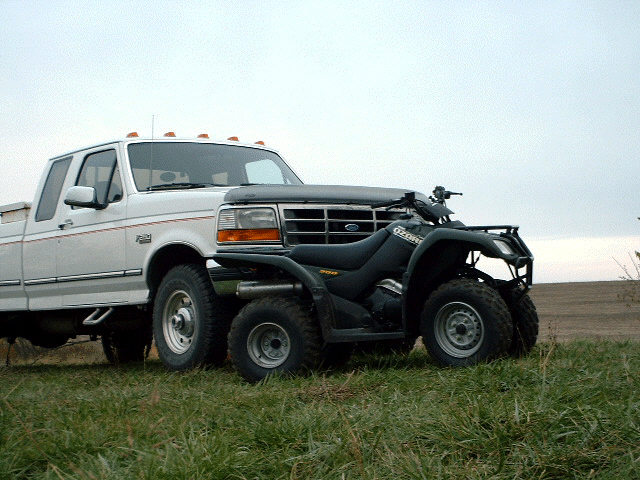 A few months later, in service as a mode of transportation.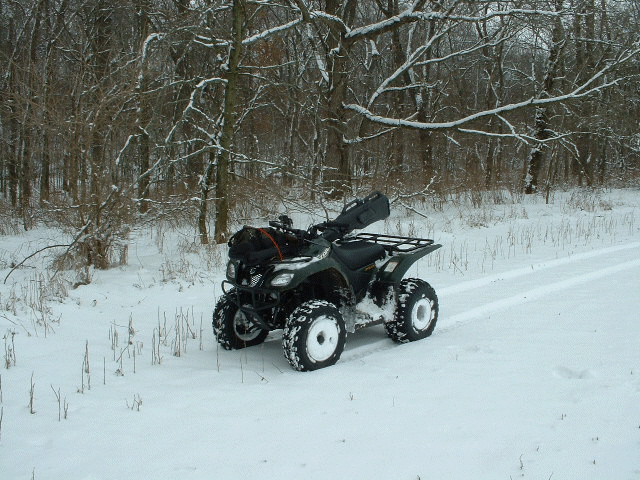 The only "accessories" that I have added are a scabbard style gun case/rack on the back and a gun rack on the front.
The scabbard style is nice in bad weather or if you are traveling through the brush. But if you just want to hop on and ride to a different spot, the front rack is much handier.
I did change to a softer handgrip because horsing around and riding hard, the stock grips tend to make your hands a little sore. Found a neat little hatchet this summer that weighs one pound and fits in the storage area under the seat. Should be nice for field dressing deer. I always carry a chunk of nylon rope in the compartment too for dragging deer or a stranded 4 wheeler or whatever. If it's cold enough outside, it's a nice place to throw a bottle of water or can of coke too.
Bought the wife a helmet this summer so she can safely ride with me or ride it by herself. We are thinking that another Ozark may be in our future.
If I was going to go buy another 4 wheeler, I'd buy another Ozark. If money were no object, I'd buy a 4 wheel drive of some sort for snowy weather and park it in the summer. The Ozark handles much better than a 4 wheel drive and is more fun to ride but it doesn't care much for deep snow.
Yes the price is a little higher than the competition but once you hit 3 grand, what's a few hundred bucks? The Kawasaki didn't impress me at all even though it was the least expensive. No offense to the Cow owners. When I test drove it, it seemed cold natured and cheap.
I considered only Suzuki, Yamaha and Kawasaki because that is what the dealer that actually seemed to want my business carried. The Honda dealer didn't seem to care if I was in his shop or not. Negative comments I had heard about the local Polaris dealer, kept me from darkening their doorway.
Bill
READ Another Review on the OZARK (with tons of pictures)
---
August 16, 2019