Update May 2004
---
As you may recall from the April update, we had just moved into our new home north of Kansas City. By the first of May, we were nearly settled in and had most of the boxes un-packed. Still hunting for a few things but they will surface.
On May 5th, my employer decided to eliminate my position. How sweet is that? They didn't even hold the door open for me as I left. After I wiped all the tears from my face, (not), I woke up the next morning, counted all my toes and fingers and you know what? life will go on.
I found a great little shop in our new town and on June 1st, Platte City PC opens for business. Very soon. the shop will also be home to CenterFire Central, LLC.
The shop has a nice sized room off to one side that can be used for classes, i.e.; reloading, computer basics or whatever else seems appropriate. I'm thinking filling it with new rifles and pistols would be nice but then I take a look at my checkbook and decide that may have to wait a bit.
Back on the home front, I had finished putting together my loading bench and was gearing up for the Prairie Dog trip to South Dakota when I lost my job. Gas is nearly $2.00 a gallon now and between that and no income, canceling the trip seemed the right thing to do, ok, the only thing to do. Guess I'll have to be content with punching local paper for now.
There is an offering plate near the exit if you feel so inclined. (kidding of course). Thanks for continuing to visit the site and stay tuned, this could get real fun, real fast.
Bill
---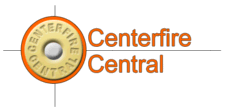 Last Modified: Thursday, May 7, 2009 11:29 PM