Ruger Compact Mark II Model 77 Review
.308 Winchester
---
Ruger Model M77 MKII Compact Rifle
Blued Finish/Walnut Stock
Black Laminate/Stainless
No Sights
Ruger Rings Included
Barrel Length 16.5 inches
Overall Length 35.5 inches
Weight 5-7/8's lbs
Calibers: .223 Rem, .243 Win, .260 Rem, 7mm-08 Rem, .308 Win
The gun reviewed here is a Blued/Walnut in .308 purchased new in November of 2002.

Out of the box, the gun appeared flawless. Clean crisp checkering, excellent wood to metal fit, deep rich blueing, crisp clear stamped markings on the metal.
I was doing fine until someone called it a "youth model". Guess I hadn't thought of it that way. The stock is a full inch shorter from pad to trigger than a standard M77. Then with the little 16.5 inch barrel, it does kind of remind you of a BB gun. Damn the bad luck, my youths have already moved out. Guess I'll have to shoot it myself.
Now that I have carried in the field a few times, call it whatever you want. I'll call it awesome !
It is well balanced, points quick, carries easy and only weighs about 6.5 pounds with the scope.
Your first inclination is to assume the short stock won't fit your long arms. It kind of feels awkward until you mount a scope on it. Then, the first time you throw the gun to your shoulder to pull down on a deer, you don't even realize how fast the cross hairs settled into place. Sorry folks, it fits and I am 5'11" and have 34" arms.
Now granted, when I throw my full size 700 against my shoulder, it fits too. How can this be?
For starters, I will attribute it to the fact that Ruger maintained the same size grip area. The trigger housing is in the exact same position in relation to the pistol grip as a standard M77.
Secondly, when you mount a scope, you adjust the distance from your eye to obtain a full field of view. Before I tighten a scope into place, I will throw the gun to my shoulder several times. The scope better be "full field" every time or it gets moved and the process is repeated. The advertised "eye relief" on a scope appears to be the minimum but certainly isn't the maximum. And from what I can tell messing with a couple of scopes here, you have a couple of inches of distance to work with beyond the 3 inch minimum. Still after saying all that, along side my M77VT, the scopes are in the exact same place.
Thirdly, well that's all I got. All I know is that the gun fits and the scope is "full field" every time. Maybe the 1 inch of stock really doesn't make that much difference. I know that it is comfortable in the shooting position.
OK, so what are the drawbacks?
Well, let's see, oh I know one. I can't find a hard case short enough to fit the gun. Oh and It is shorter than my 4 wheeler is wide. No, wait, that isn't a drawback.
But seriously, it can pose some interesting issues. Like fitting it in gun racks and stands. And I'm sure there is velocity lost with the short barrel though I haven't run mine across the chronograph yet. It's fun to hand the gun to someone who has never seen one of them. They take it from you expecting the weight of a typical "hunting rifle".
My only real complaint is the floor plate fits too snug and is a pain. I put 1 piece of a credit card between the front end of the trigger housing and the stock and solved that problem. Doing this forces the trigger housing not to seat so deep into the stock leaving the latch for the floor plate a little more exposed so that it functions properly.
I still haven't taken a deer with this rifle as of 12/2/2003, but hopefully, that will change in a couple of weeks and I will come back here and update this page.
Fired 10 rounds through it on 12/6/2003 sighting in a different scope on it. That worked out fine except my hands were freezing. I hate target practicing/sighting in with gloves on and it was just too cold without them. Nice little groups at 25 yards opened up to over an inch at 100 yards.
I followed this procedure for break in which included the 3 targets below. I haven't even played with many different loadings, yet.
Additional updates on the Compacts
Read another review on the Ruger Compact Here
There is a great article in Shooting Times "September 2006" "The Short Answer About Short-Barreled Rifles" by Dick Metcalf
---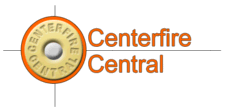 Last Modified: Wednesday, November 25, 2009 7:57 AM