Update October 2004
---
As promised, the ATF sent my FFL in late August. It was sitting in the mailbox when me and my brother returned to my house from a trip to the shooting range.
It was a proud moment for me and pretty cool that Kyle was there when I got it. He had been waiting for me to get my license so he could order a new Ruger Compact M77 for his wife. The next day, I went and picked up his new rifle. He ordered a Stainless Compact in 7MM-08 and a stainless Elite scope.
Of course I had to run him through NICS before I could give him the gun, which felt pretty weird but rules is rules. We were proud to say he was the first "customer". He promptly showed the Ruger off to one of his neighbors and I ordered a twin to it for the neighbor the next week.
They are really sharp guns and topped off with the stainless scopes is just icing on the cake. My brother and his neighbor got together and put the guns through the "Break-In Procedure" and they are ready to go.
At 6.25 pounds plus about 1 pound for the scope, the guns give off a sizeable amount of recoil. They will no doubt be ordering dies and lead in the near future. You may recall I bought a blued compact in .308 almost 2 years ago. Kyle and I had shot it at the range the day I got my FFL. I had worked up some loads with 110 grain spitzers and they were shooting very well. We ran them across the chronograph and I was pleased with the velocity out of the short barrel (16.5 inches). They were averaging 2750 fps. Plenty of punch for a whitetail without the recoil of excess lead.
The velocity loss was less than I expected and that was that was good news to me. I had always used the "75 fps/per inch" rule of thumb. This was working out to more like 25 fps loss per inch. All of this just makes me that much happier with the compact. I know they look and feel extremely small, and they are, but when you pile on a wool sweater and the insulated coveralls, you can still get the gun to your shoulder readily, the shorter stock is no "handicap". I think I need one of these in each caliber.
I started buying a little inventory for the gun shop and really started appreciating my favorite gun shop. He always has a nice supply of powder, bullets, guns, etc. Now it's a little more obvious just what an investment he has in it. One shelf full of boxes of bullets can easily be 6 or 800 dollars. I did know going in that inventory would be one of my bigger hurdles but as long as I can order as needed and expand when possible, I should be fine.
Built a nice new bench for the gunsmithing work, added some lighting and shelving and it's working out real nice. I've done a couple of repair jobs already and enjoying myself. Had a shotgun come in that I had to go test after the repair work. How awful is that? Having to shoot a gun as part of your job. Man, hurt me some more, please.
I put together a couple of web pages for the shop and will keep them current. The Shop
Spent a few hours this week cleaning up this web site. I moved the old "Firearms Magezines" to their own space and pulled articles from them to cut down on some the scrolling that had to be done to find the articles in the past.
This site still gets 2200 to 2500 hits per month which still amazes me. It's not a huge number but hopefully, folks continue to find useful and entertaining information.
Bill
---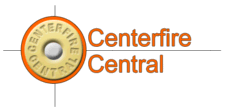 Last Modified: Thursday, May 7, 2009 11:28 PM